ACTIVE VISIONS of TAROT
Active Visions of Tarot 
'If you are in for an imaginative adventure and ready to surprise yourself go for it!'.
VM in Holland
with Sonia McNally
11 sessions
Mondays & Tuesdays 15.00-17.00 British Summer Time
Starting Monday 7th June & ending Mon 12th July
Cost £175
or equivalent in Bitcoin or Ethereum 😉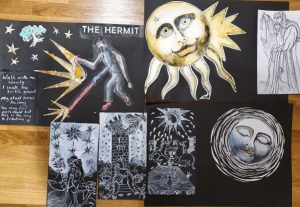 (If you are cypto curious and would like to pay in Bitcoin or Ethereum but don't know how – please get in touch)
What is the course about and how will we work?
It is online using Zoom, we have a short break in the middle of the two hour session.
In this course, we will each make a personal and creative portfolio using each of the major arcana of the Tarot.
I will take you through the process of drawing and working with the active imagination for two of the major arcana in each session, and you will gain a deep personal understanding and knowledge of the cards through your work.
We will start with observational drawing and group discussion (while drawing) and deep dive into the meanings and our individual understandings of the cards, which will build as we progress through the course into a full body of creative work.
The course is suitable for all levels of artists and cartomancers. Beginners will gain observational skills in drawing and card-reading and more experienced students will understand nuances and develop their creative skills and practice. The group environment encourages an exploration of your own creative boundaries, as your work gathers pace and ideas are shared.
What materials do I need to do the course?
Please use art materials and tarot decks of your choice.
The work we make in the sessions is relatively small in scale, due to time so water colour, water colour pencils, paint pens, drawing ink – that kind of thing work well, charcoal and pastels less well, but please feel free to choose your preferences. I'll send out info on the preparations before the start. As an example, I will be using a Marseille deck to draw from, pencil, ink, paper, and water colour.
What if I miss a session?
All sessions will be recorded and shared with all participants. The twice-weekly format is designed to create an atmosphere of immersion in your creative process and in that of the group, as well as the opportunity to journey deeply with the symbolic images.
Time Zones 
BST London / Europe 15.00- 17.00
EDT New York / Toronto  10.00 – 12.00
CDT Chicago 09.00 – 11.00
MST Phoenix 07.00 – 09.00
PDT Los Angeles 07.00 – 09.00
MDT Calgary 08.00 – 10.00
If your time zone / place is not listed above please click here to find your details
About Sonia McNally
'All my work as an artist and teacher aims to engage the imagination at a deep and transformative level. Going on an artistic journey in the outer world (in this case the exploration and formation of a deep relationship with the cards), and at the same time inhabiting the limitless imaginal inner world – creating an exciting point where the two meet and watching the magic happen.
'Although this course is based on the tarot you will learn skills that you will be able to use in many different contexts that will allow a deep imaginative connection with your subject matter in whatever medium it is going forward'
Sonia is an visual artist, author, cartomancer, performer and filmmaker. She has a first-class degree in Fine Art Painting & Drawing and has taught observational art at Canterbury Christ Church University since 2003, as well as leading art courses at Canterbury Cathedral. She has a special interest in working on site in sacred spaces, using the landscape as a portal to symbolic and imaginal worlds.
www.soniamcnally.co.uk
What people say about this course…
Its great to watch, listen and be involved in artistic happenings run by Sonia. She created an amazing experience for us all, I did not realise that the drawing could uncover so many things about the cards and myself. Highly recommended. VH in UK
I had the great pleasure of participating in a test run of this course online. While Sonia is incredibly skilled and has a keen eye for beauty and expression, she is also kind, understanding and encouraging. I was scared my drawing skills were totally insufficient to get anything useful out of this practice, so you can imagine my surprise when I got some interesting insights that helped me further along my way, as well as the confidence that I didn't need to be a skilled artist in order to have fun! If you are in for an imaginative adventure and ready to surprise yourself go for it. VM in Holland
I thoroughly enjoyed Sonia's class. I always thought I couldn't draw and I didn't have that level of creativity. During the class, Sonia guided us with key pointers to help us draw, and with persistence it paid off. Not only did I feel happier and more confident during the session, it made me recognise the joy I can find in drawing. Sonia is a great teacher and I can't wait to attend another class with her. KC in Hong Kong 
My website is currently undergoing some major changes and some some areas may be missing/incomplete at the moment.