Fortune Telling Cart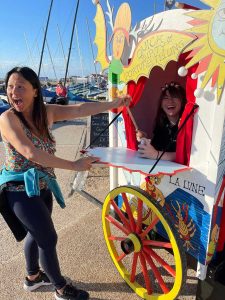 Sonia lives in the oldest Medieval market town in Kent and has a passion for all things Medieval, the spirit of the circus, the carnival and the fairground.
Her 'Gypsy Eye' and theatrical personality give her fortune telling a quick witted edge, and her self-constructed cart – a visual spectacle for any party, cabaret or event.
A testimonial from Margo Selby
'Sonia added a unique element to our wedding: the colourful cart added greatly to the summer fete atmosphere and the guests loved the experience of having their rather outré fortunes told.'
If you would like Sonia to turn up at your event please get in touch.
The Fortune Telling Cart was born out of an 'imagination and drawing course' Sonia ran called  'Active Visions of Tarot'. Her cartomantic style has its foundations in the Medieval Cunning folk tradition.