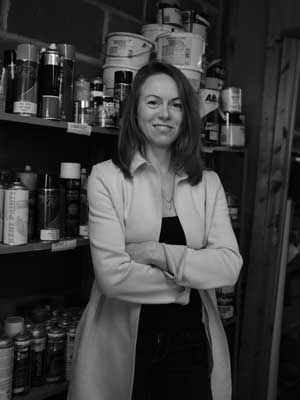 Sonia McNally is a visionary artist, passionate about working in the wilderness, where immersive experiences open portals to the imagination and the layered narratives that she finds there.
Fascinated by ideas of the sacred, mysticism, earth-based religion, Celtic Christianity, folklore, hagiography and mythology, her work takes her on many exploratory pilgrimages and has many expressions – from painting, printing, poetry, glass, sculpture, to film and interactive performance. Her community and students describe her as a 'force of nature' and 'midwife to the imagination'.
'Euphrosyne & The Harty Spring', an illustrated poem of one such journey, to a natural spring in Kent has just been published and her most recent book 'The Hand of God' is off to New York for an exhibition opening on 1st June 2023.
Sonia's creative portfolio includes, freelancing as a scenic artist for the film industry, where her work is seen on major cinema and TV titles, and as a modelmaker creating and installing world class interactives for museums and exhibitions. She has won large scale glass commissions in churches, runs drawing courses at Canterbury Cathedral and concurrently taught at Canterbury Christ Church University for over a decade on Fine Art degree programs and an MA 'Myth Cosmology and the Sacred'. She continues to run a yearly Artists' retreat to Dartmoor and has worked with groups of artists from Iona to India.
Exhibiting frequently and internationally – recently in the Turner Contemporary, and for 2023 New York and Chicago are in the line up.
Sonia is a yacht skipper and races dinghies at Whitstable Yacht Club.