This 62 page leather hand bound book tells Genesis 1-3 through the ecological, feminist & poetic lens of a living breathing earth. Inspired by the visceral & apocalyptic landscape of birth from experience & Lennart Nilsson's photographs of cellular forms. The book contains three handwritten and illustrated poems; In the Beginning, Adam & Eve and The Fall.
The book took two years in the making and shares something of myself, my ongoing work with the Feminine and exploration of the ever fascinating creation narratives. While working through the complexities a work of this kind throws up, I have had many interesting discussions with professional and amateur theologians and philosophers, from many different faiths and no faith. My intention is that the book reaches its audience where they are and however they live, not as a religious experience but just letting the symbolism wash over the imagination – with thoughts of ecology – your internal ecology, the environment you create around yourself and the wider environment of the earth and how this can be sustained.
I'm excited to finally be finding an outlet for some key inspirational references I've had for years, and looking at these inspirations more deeply is opening new avenues of creativity and meetings of like minded people.
The 15th Century Voynich Manuscript
The works of William Blake in general
Medieval illuminated manuscripts
The research for the book explores many themes visually, symbolically, through language (literal, animal, sensual and instinctual) and the environment. Where there is a physical metaphor there is a spiritual one – it is as much an inward journey of discovery as an outward journey of leaving The Garden.
Themes:
physical and spiritual birth, rebirth, labour – work, labour of birth, spiritual labour, awarness (the light and the dark, good and evil – can you see, what do you you see?), temptation, disobedience, consequense, expulsion, separation, transformation, redemption, repentence, love, death, eternal life, fear of loss, your philosphical approach to free will, call to self discovery and growth, how you find your 'Divine language and tools'? (however you meet that phrase – what is your passion and what tools do you use to express it?), abundance and integration in nature and the creative wellspring of your internal world – your imagination, healing and spiritual santuary (enjoying clean waters for drinking, swimming, life in general or some kind of spiritual cleansing), Divine wisdom, ancient wisdom, plant medicine, cycles of nature, sustainability of the planet, sustainable norishment – where does that come from and how is it sustainable?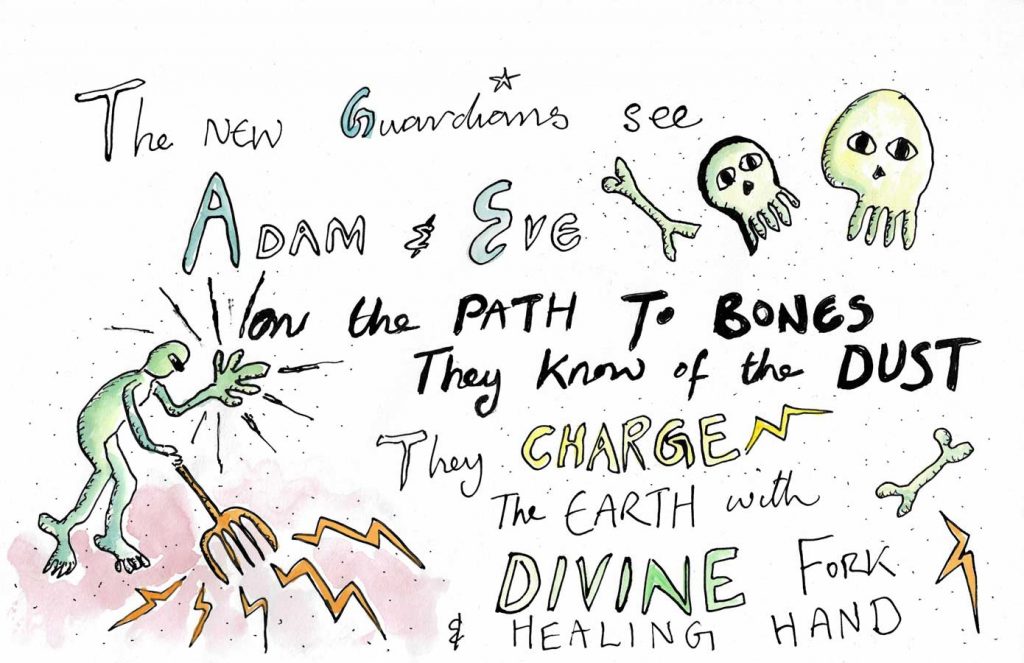 Would you leave The Garden? and if you would why?